TealPaint Plus
6.53
Paint, sketch, or draw with TealPaint, the all-in-one graphics paint program for PalmOS. Highlights include 20 tools, 16 patterns, 24 brushes, zoom, hires, layers, multi-undo, and
Last update
20 Mar. 2006
Licence
Free to try |

$24.95
OS Support
Mobile
Downloads
Total: 354 | Last week: 0
Ranking
#39 in Multimedia
Publisher
Tealpoint Software
TealPaint Plus Publisher's Description
Ultimate Drawing and Painting: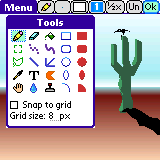 Unparalleled Graphics Power
Paint, sketch, or draw with TealPaint, the all-in-one graphics paint program for PalmOS.
All new TealPaint Version 6 sets a new standard in handheld image capabilities, offering features previously only available on a desktop.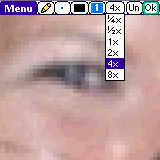 Feature Highlights

High resolution support
1,2,4,8, or 16 bit color images
Unlimited image sizes
Direct card (SD,CF,MMC) support
20 Drawing tools
16 Draw patterns
24 Brushes
6 Zoom levels
Layers
Multiple levels of undo/redo
Screen-grabber
Image slideshow
Image animation
BMP Import/Export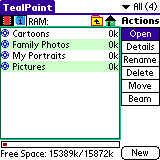 Special Functionality
TealPaint 6 supports handy extras like a slideshow mode, programmable buttons, image compression, grid snap, image templates, copy/paste, and screen capture image-grabbing. As a bonus, also included is an all new version of the TealPoint Image Manager, a Windows desktop import, export, and printing utility. TealPaint is fully PalmOS 5 Compatible.

- Complete -
It's Windows Paint for PalmOS, complete with a library of brushes, fill styles, and fonts. Better yet, you have the added control of drawing with the stylus.
PC Computing Magazine
- Feature-Rich -
If you are serious about creating art on the PalmPilot, TealPaint is likely the most feature-rich drawing tool available. It offers common drawing aids for creating lines, circles, boxes, and ovals, you can paint with 12 brushes, fill entire areas using the paint bucket, and add text to your pictures. TealPaint even lets you zoom in on images while editing.
PC Novice Guide to Computing, Portables and Windows CE
- Fantastic -
TealPaint is a fantastic image and painting program that allows you [to] draw and manipulate images on your WorkPad. When I use TealPaint I don't feel like I'm on a handheld at all. I can draw robust images and manipulate text in funky and fun ways.
GoInside Magazine

BONUS: A special for Handango, this enhanced bundle includes TealPoint VersionMaster for PalmOS. A $10 value, VersionMaster effortlessly tracks all your TealPoint applications, finding, downloading and installing new updates, when available.

A leading provider of software solutions for handheld devices, TealPoint Software currently offers 27+ productivity products for the PalmOS platform. Selections include TealDoc, the superior document reader, TealMovie, the award-winning multimedia player, TealAuto, the complete vehicle service and expense log, TealPhone, the replacement address book, and TealLock the definitive PalmOS security solution.


Take advantage of TealPoint's Free 30-Day Trial Policy on all products.
Look for Similar Items by Category
Feedback